The yarn store has been sending me email. The message is: You bought a sweater's worth of yarn about seven months ago and haven't bought any yarn since then. Aren't you done with that sweater by now? Shouldn't you be buying more yarn? This reminds me of when I was in grad school and people would ask me how my dissertation was going. Actually, this is much better than grad school because the sweater is actually coming together pretty well, and a certain professor will not be examining every single stitch and making lots of critical comments.
I'm making the Botanical Yoke Pullover from Purl Soho. I wasn't particularly happy with the way that the neckline looks on the model in the pattern photo, so I also added some short rows following a pattern for a totally different sweater.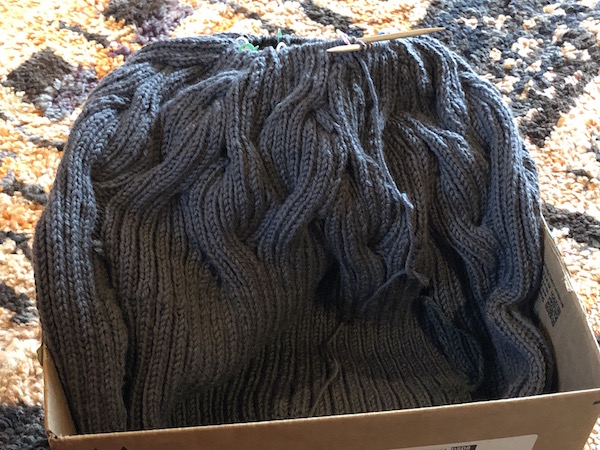 I'm currently running into two problems making this sweater. No, wait, three.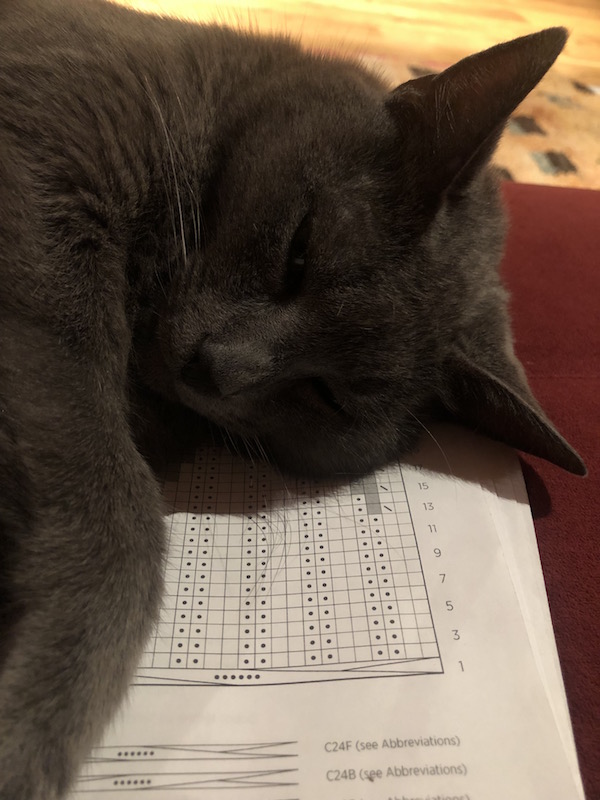 Sophie loves to lie on the pattern. Sophie says that I should not consider her to be a problem. Thus, I will say that the first problem is that 12-over-12 cables are really annoying.

Too many other things to do. I literally spend hours per week watering plants that are out of range of the sprinkler system. I feel a little bit bad about this because we are having a drought in California. I'm also having more plants put in later this summer and am having mixed feelings about that. But some of the new plants are trees, and parts of my yard really, really, really need the shade. Also in terms of my yard, at some point I need to go out and rake flowers because jasmine flowers don't seem to disintegrate the way that most other flowers do. I also have some tree that has been dropping yellow flowers to such an extent that I need to rake them or sweep them or something. And since we don't have real seasons here, some plant is always dropping leaves instead of them all being nice enough to do it all at once in the fall.

I think that the arms of the sweater are too long. I really struggled to get row gauge as I was knitting. I have knit and re-knit the sleeves a total of four times (two sleeves \(\times\) two attempts). I think that they are still wrong. If they turn out to be only a little bit long at the end, then I am going to ignore that. If they are just past the point of ignoring, I'm going to unravel from the cuff end and then bind off with a crochet hook, even though that's not ideal for ribbing. If they are off enough that the sleeve shaping is wrong, I'm going to have to remove the bottom third or half of the sleeve, reknit that part (YET AGAIN) with fewer rows between decreases, and then kitchener the replacements into place.