Will the Plumbing Saga Ever End?
The plumbers started the repipe of the building on February 10. That was almost a month ago. This project was advertised to take roughly 2-4 days per pair of apartments. Each upstairs/downstairs pair has its water pipes branch off the main service in roughly the same place. The main service runs along the center of the building, in the ceilings of the downstairs units.
So when were they going to start here?
First, they were going to start here on February 20. Then it was supposed to be February 24. Then it was supposed to be February 26. They started on February 27.
Finally on Friday, March 6 they had finished the plumbing work, and the work passed inspection. They claimed that when they come back on Monday, March 9 that they will patch my drywall and put my laundry machines back in the laundry closet so that I can do laundry again. They also noted that the apartment downstairs from me had pretty serious damage (main pipes in the ceilings were replaced, too) and that all the drywall-fixing is going to take a while.
Today I patched the drywall in my laundry closet. Tomorrow I'll sand the joint compound, put on a second coat, and call it good enough. It's going to be behind my washing machine, so no one will see it. My laundry machines can go back to where they belong, and my cats will have fewer opportunities to climb inside my walls.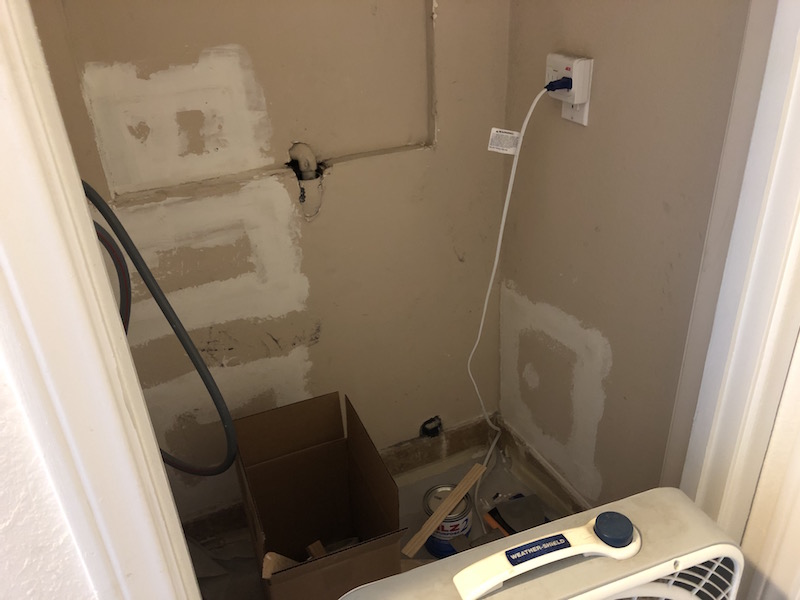 In my act of defiance against the horrible interior norms of California, I am not going to apply texture to my repair work. Even though the rest of the wall is textured and the cut-out pieces I replaced are textured. I hate texture. If I were not motivated to get this all done as quickly as possible, I would have applied a skim coat to all the walls in the laundry closet, sanded them smooth (despite the shortage of drywall-sanding masks), and had a small part of my home with smooth walls. If the stock market unbreaks itself enough for me to think about buying a house, I dream of having all the walls made smooth before I move in.