Subtitle: Who wore it best?
Everyone I know from upstate NY is very, very, very excited that we have been mocked on The Simpsons.
Even the Greater Schenectady Metropolitan Area got its own bit of ribbing.
One of the few landmarks in Niskayuna, NY is the water tower visible over the Mohawk Club. Normally you see this water tower from Balltown Rd., but the view on Google Maps is obscured by trees, so I looked around back for a view of the water tower for you.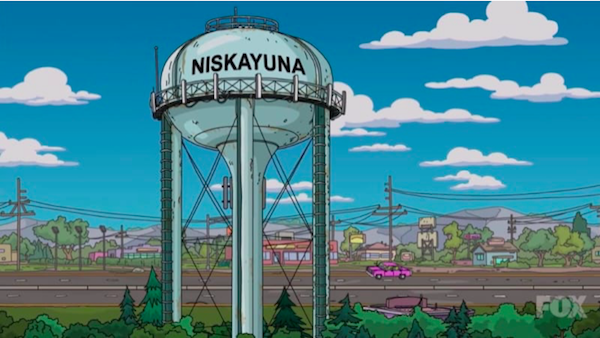 Approximately every government official from Albany to Buffalo has weighed in on this episode. It is a little bit disappointing that Kirsten Gillibrand has nothing to say.
The very best part of this, though, is that comment sections all over the internet are now filled with people arguing about what counts as upstate NY. Apparently there are some trolls who put forward the ridiculous idea that Westchester County is part of upstate NY.